Piano Teachers Survival Guide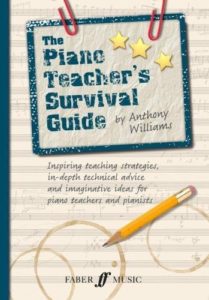 From preparing for the very first lesson to mastering fiendish fingering and performance anxiety, this inspirational guide helps teachers nurture and support students at every level and develop a love of the piano. With musical communication at its heart, The Piano Teacher's Survival Guide tackles universal issues and common frustrations faced by all pianists as well as improving and developing teaching skills and piano technique
Available now at Amazon.co.uk
Reviews:
'This book covers everything we piano teachers could ever need to know with practicality and honesty, from the first lesson to fingering, from technique to teaching skills. Williams is an engaging writer and delivers all this in a straightforward and clear way. Reading the book is like having a wise experienced friend available to answer all the questions you ever wanted to ask about piano teaching.' Fiona Lau
See full review at Music Room.com
'Once in a while a book appears which must be considered essential, an instant classic, and this is one such publication. The Piano Teacher's Survival Guide instantly establishes itself as the very best practical manual available for today's piano teachers.' Andrew Eales
'I think it's the fact that all this tricky technical and stylistic information is written in such an easily understood way, with actual practical activities to achieve what he's suggesting. This kind of practitioner information is very rare to find, games, activities, I was thrilled to see them all.' Karen Marshall
See full review on Andrew Eales' Pianodao here
The Best of Grade 1-5 Piano
The Best of Grade Series comprises pieces selected by the major examination boards in one volume for each grade, which have captured the imaginations of teachers and students over the years, including some old favourites and some forgotten gems. All the pieces are tried and tested and perfectly graded and fingered. The books also provides top-quality music that is ideal as a sight-reading resource for more advanced students. The music has been carefully selected and edited by Anthony Williams, a leading ABRSM piano examiner and selector.
Available at Amazon.co.uk
Fingerprints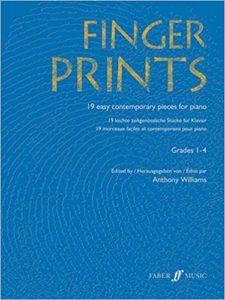 Fingerprints is a collection of piano pieces written by real, living composers who eat breakfast, get tired and irritable, laugh at jokes and have favorite things. Using their imagination and with a love for piano music, they have captured a little bit of what makes them who they are within some inspired pieces and left these as a set of musical 'fingerprints' for you to play.
Break In (Madden) * Cowbells in Zululand (Du Preez) * Dance Variations (Peat) * Eeyore's March (Jackson) * Flowers Upon the Grave of Winter (Alexander) * Hopscotch (Harris) * Pizza with Kristin (Wallen) * Pounce (Phibbs) * Sometimes When I'm Dreaming (Sculthorpe) * Spiders' Footprints (Jackson) * Stop Doing That (Percy) * The Leaving of Liverpool (Alexander) * Timewarp (Gritton) * Tiny Giant (Hindson) * Twilight (Harris) * Weaving Song (Beach) * While the Cat's Away (Ilis) * Willow (Iles) * Xmas Bells (Hindson).
Available at Amazon.co.uk